Robustel M1000-PUMTSB Pro V2 3G Serial Modem with Dual Sim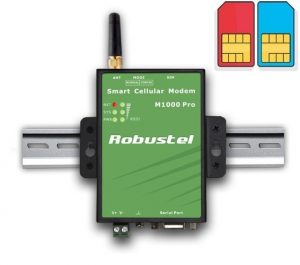 GoRugged M1000 Pro V2
Dual SIM Industrial Serial to Cellular Gateway for GSM/GPRS/EDGE/UMTS Networks
Robustel GoRugged M1000 Pro V2 is a rugged serial to cellular gateway with dual SIM offering state-of-the-art 2G/3G connectivity for machine to machine (M2M) applications.
KEY FEATURES
– WCDMA 850/900/1900/2100
– GSM 850/900/1800/1900
– Dual SIM redundancy for continuous cellular connection.
– Various SIM backup polices: PING/Monthly data traffic/Roaming.
– Auto GPRS/UMTS connection (no AT commands required).
– Support CSD communication (only receive CSD call).
– Transparent TCP and UDP socket connections.
– Supports Virtual COM (COM port redirector).
– Supports ICMP, DDNS, Telnet.
– Supports RobustLink (Centralized M2M management platform).
– Supports Modbus gateway (Modbus RTU to Modbus TCP).
– Supports Modbus master polling, collects data at preset interval and sends to RobustLink.
– Various reboot policies: SMS/Caller ID/Timing.
– Various dial-up policies: Always Online/Connect On Demand.
– Remote configuration via RobustLink/TCP/SMS.
– Remote firmware upgrade via RobustLink/TCP.
– RS232/RS485 selectable by software.
– Six LED indicators provide signal strength and running status.
– Watchdog for reliable communications.
– Wide range input voltages from 9 to 36 VDC and extreme operating temperature.
– The metal enclosure can be mounted on a DIN-rail or on the wall, also with extra ground screw.
APPLICATIONS
– Automatic Meter Reading
– PLC Remote Management
– Vending Machine Remote Management
– LED Signage Publication
– POS Connectivity Backup
Robustel R3000-L4L Lite V2 3G/4G/4G700 Router – CAT4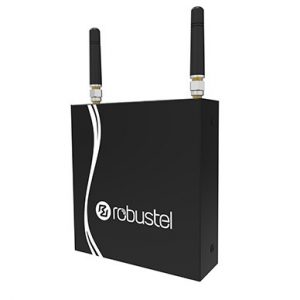 R3000-L4L LITE is a cost effective, industrial-grade VPN gateway designed for cost-sensitive M2M applications.
Key Features:
■ Dual SIM Industrial Cellular VPN Router with 1 Ethernet port;
■ GPRS/EDGE/UMTS/HSPA+/4G LTE Networks;
■ Supports RobustLink (Centralized M2M management platform);
■ VPN tunnel: IPSec/OpenVPN/PPTP/L2TP/GRE;
■ Various interfaces: RS232/RS485/USB/Ethernet.
Teltonika RUT950 3G/4G/4GX Router with Wi-Fi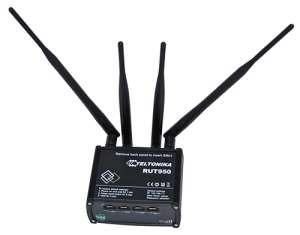 Teltonika RUT950 3G+4G+4GX Router
A commercial/industrial router supporting Telstra 4GX 700 MHz (B28 LTE), with full 3G fallback onto Telstra Next-G 850 MHz. Additionally, the router can also operate on standard 1800 MHz 4G along with high capacity 2600 MHz 4G. While this router doesn't offer carrier-aggregation, it supports speeds in excess of 150 Mbps DL and 50 Mbps UL (Cat 4 LTE). The modem also fully supports Optus and Vodafone 4G including new 4G+ networks.
The Teltonika RUT950 is the perfect solution for people who'd like to share their internet on the go, as it is not restricted by a cumbersome cable connection. Unrestricted, but not forgotten: the router still supports internet distribution via a broadband cable, simply plug it in to the WAN port, set the router to a correct mode and you are ready to browse.
FEATURES:
Supports Telstra 4GX 700 MHz LTE with full Next-G fallback
Supports Optus 4G+ 700 MHz LTE with full 3G fallback
Supports Vodafone 4G+ 850 MHz LTE with full 3G fallback
3x LAN, 1x WAN 10/100 Ethernet Ports
2.4 GHz 802.11n WiFi 2X2 MIMO
9 to 36 Vdc Molex connector with 240 Vac power supply
Can be powered by 24 Vdc Passive PoE Injector
Dynamic DNS, DHCP Relay, Web filters
2x Removable Cellular Antennas, 2x WiFi antennas
SMS Config & Ping reboot
Dual SIM (standard size) with carrier failover.
Telstra.Corp and Private APNs fully functional
Now includes mounting flanges as standard.
Robustel R3000-LG4L 3G/4G/4G700 LoRaWAN Router – CAT4 + GPS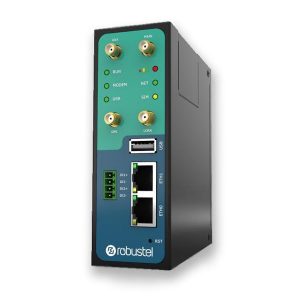 The Robustel GoRugged R3000-LG Router with integrated LoRaWAN wireless communications technology has two independent Ethernet LAN connectors configurable as LAN, WAN or WAN with fail-over to Cellular. Providing various access for types of LoRa application nodes to the cloud platform.
General Features
■ Two base models: 4G, 4GX LTE with integrated LoRa-WAN Transceiver
■ Optional GPS/GLONASS receiver.
■ Power Supply: Input voltage range 9 – 60 V D.C. with screw-lock connector
■ Solid Metal case construction, Operating Temperature Range: -40 to + 75 Deg.C
Interfaces
■ Twin Ethernet ports + Serial port configurable as RS232 or RS485
■ USB 2.0 Host interface
■ Two isolated Digital Inputs, with remotely monitoring
Software and other features
■ LED indicators (including RSSI), Built-in RTC, Watchdog, Timer, SMS & Call & Timed Re-boot
■ VPN Tunnel: IPsec/OpenVPN/GRE
■ Management: Web, CLI, SMS, RobustLink cloud service
■ Serial Port configurable as TCP Client/Server, Modbus Support, Virtual COM port
■ Supports RobustLink and Robust VPN
Dual-SIM for continuous cellular connectivity, support for RobustLink cloud-based services, multiple VPNs, digital inputs and many other configurable features.