Ubiquiti PowerBeam AC Gen2 5GHz, 420mm Dish +450Mbps
High-Performance Wireless Bridge
Uniform Beamwidth Maximizes Noise Immunity
256QAM Modulation
Innovative Mechanical Design
High-Speed Processor for Superior Performance
Medium links up to 20 km, 25 dBi antenna gain
Dedicated Wi-Fi Radio for Management
Ubiquiti Networks launches the latest generation of airMAX® CPE (Customer Premises Equipment), the PowerBeam® 5AC Gen 2, with dedicated Wi-Fi management.
The PowerBeam 5AC Gen 2 directs RF energy in a tighter beamwidth. With the focus in one direction, the PowerBeam 5AC Gen 2 blocks or spatially filters out noise, so noise immunity is improved. This feature is especially important in an area crowded with other RF signals of the same or similar frequency.
airMAX ac supports high data rates, which require dense modulation: 256QAM – a significant increase from 64QAM, which is used in airMAX. With their use of proprietary airMAX ac technology, airMAX ac products supports up to 450+ Mbps real TCP/IP throughput – up to triple the throughput of standard airMAX and competitor products.
Powertec are expert point to point and multipoint network designers, whether you're installing a small wireless network, or starting your own WISP we can provide turn-key systems to match. Get in touch with our team today to begin planning your communication network today.
InfiMAN 2×2 R5000 Beamforming Point to Multipoint Base Station – 21dBi Sector
Beamforming 240 Mbps Point to Multipoint
240 Mbps sector capacity with 40 MHz channel width
Variable channel widths from 3.5 to 40 MHz
Connectivity at the distances of up to 20 km
Smart beamforming technology, doubles capacity
Ruggedized aluminium cast IP66 and IP67 enclosure
The InfiMAN 2×2 is a successful field-proven family of wireless point-to-multipoint products designed for various applications, including fixed wireless access infrastructure for operators and enterprise networks, including nomadic and mobile functionality. It encompasses a number of base station sector units, including those with a beamforming antenna, and a range of subscriber terminals with both various integrated antennas and connectorised ones. The whole family features high spectral efficiency, exceptional reliability and excellent Quality of Service (QoS).
The Qmxb model comprises of a 21 dBi beamforming/steering 90° sector antenna (20° az beam), integrated into InfiMAN's high performance 240 Mbps (6 bps/Hz spectral efficiency) multipoint base station, supporting up to 300 subscriber units.
The InfiMAN 2×2 portfolio represents a unique proposition to all types of operators (e.g. WISP's, organisations of all sizes, government authorities, etc.) wishing to deliver Fast Ethernet data, voice and video services at ultra long ranges, whilst at the same time providing a wide set of networking features and maintaining strict QoS control. With their increased aggregate bit rates and improved coverage range, our base stations now allow operators to cater for more and higher capacity remote subscriber units than ever before, thus reducing capital expenditure on network infrastructure.
Ubiquiti Edge Router X, 5-Port AU Power Supply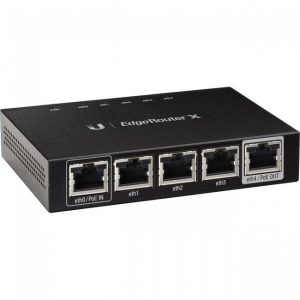 The EdgeRouter™X is ultra-compact and delivers cost-effective routing performance. Powered by 24V passive PoE or a power adapter, the EdgeRouter™ X features a passive PoE passthrough option* to power an airMAX® device. The EdgeRouter™ X provides uptime performance equal to leading carrier or enterprise technology solutions by using five independent, Gigabit RJ45 ports that are configurable for switching.