Off the Grid Power Solutions:
Solar and wind powered energy systems are the cleanest and greenest source of energy to help power your home or business. Solar powered devices are becoming more and more prevalent as a result of improvements in efficiency and reduction in prices. With these developments, more and more applications are being found for their deployment.
Where it is too expensive or too remote to connect to mains power, installing a solar powered energy system can be an economical solution – particularly in rural and regional communities where there is a lot of scope to improve business opportunities.
 Solar Pack 1 : 12V 120W 80AH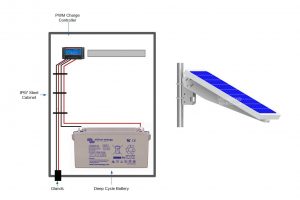 PACK 1 INCLUDES:
1 x 12V 120W PV Panel
1 x Side of pole mount
1 x 400mm x 400mm x 250mm Cabinet
1 x 12VDC 10A PWM (Morningstar)
1 x 12VDC 80Ah deep cycle battery (Sentry)
1 x 5m figure 8 12VDC cable
COMMON APPLICATIONS:
– Non-standard NBN installation
– Wireless bridge relay
– M2M
– M2M with CCTV
– M2M with wireless bridge or Wi-Fi – CCTV with wireless bridge
OPTIONAL EXTRAS:
– Assembly
– Victron Energy MPPT Monitor
– Keyed Locks
– Vent/Fan
– AGM Battery Lithium 12VDC 100ahFREIGHT:Cost of freight will need to be calculated prior to finalising your Off the Grid Power Solution purchase. It will depend on delivery destination.
Solar Pack 2 12V 150W 105Ah
PACK INCLUDES:
1 x 12V 150W PV Panel (Enerdrive)
1 x Side of pole mount
1 x 600mm x 400mm x 250mm Cabinet
1 x 12VDC 10A PWM (Morningstar)
1 x 12VDC 105Ah deep cycle battery (Sentry)
1 x 5m figure 8 12VDC cable
1 x DIN rail
COMMON APPLICATIONS:
– Non-standard NBN installation
– Wireless bridge relay
– M2M
– M2M with CCTV
– M2M with wireless bridge or Wi-Fi – CCTV with wireless bridge
OPTIONAL EXTRAS:
– Assembly
– Victron Energy MPPT Monitor
– Keyed Locks
– Vent/Fan
– AGM Battery Lithium 12VDC 100ah
Solar Pack 3 12/24VC 200W 105Ah
PACK INCLUDES:
1 x 24V 200W PV Panel (Enerdrive)
1 x Side of pole mount
1 x 600mm x 400mm x 250mm Cabinet
1 x 12/24VDC 15A MPPT (Victron Energy)
1 x 12VDC 105Ah deep cycle battery (Sentry)
1 x 5m figure 8 12VDC cable
2 x DIN rail
COMMON APPLICATIONS:
– Non-standard NBN installation
– Wireless bridge relay
– M2M
– M2M with CCTV
– M2M with wireless bridge or Wi-Fi – CCTV with wireless bridge
OPTIONAL EXTRAS:
– Assembly
– Victron Energy MPPT Monitor
– Keyed Locks
– Vent/Fan
– AGM Battery Lithium 12VDC 100ah
Solar Pack 4 12/24V 200W 215Ah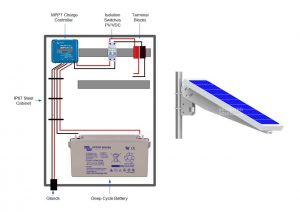 PACK INCLUDES:
1 x 24V 200W PV Panel (Enerdrive)
1 x Side of pole mount
1 x 800mm x 600mm x 300mm Cabinet
1 x 12/24VDC 15A MPPT (Victron Energy)
1 x 12VDC 215Ah deep cycle battery (Sentry)
1 x 5m figure 8 12VDC cable
2 x DIN rail
COMMON APPLICATIONS:
– Non-standard NBN installation
– Wireless bridge relay
– M2M
– M2M with CCTV
– M2M with wireless bridge or Wi-Fi – CCTV with wireless bridge
OPTIONAL EXTRAS:
– Assembly
– Victron Energy MPPT Monitor
– Keyed Locks
– Vent/Fan
– AGM Battery Lithium 12VDC 100ah